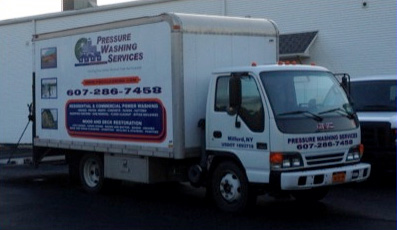 Pressure Washing Services Inc take pride in offering exterior property cleaning, fire & water damage restoration, low pressure roof cleaning, wood & deck restoration, and interior power washing & water extraction for commercial and residential clients. We provide these services throughout New York State.
CLICK HERE TO REQUEST AN ESTIMATE ONLINE
We offer 24 hour emergency response for Fire and Water damages as response time minimizes damage. Our staff is certified in water damage restoration by the institute of Inspection (IICRC), Cleaning and Restoration Certification a national certification recognized by your insurance companies nationwide. We are nationally certified in Wood Restoration and Pressure Washing by CES. This profession is not about spraying high pressure water, it is the trained specialist that applies both the art and science of the industry that will safely and effectively clean your property and attend to your project needs. Call us today at 607-286-7458 for all your property maintenance meeds.